It figures that the times I wanted to actually sit down and write a post the website was down. Now that the website is up I forget what i so badly wanted to jott down.
Oh and what is it with these spam emails and spam comments I keep on getting ? Every signle day I get happy seeing I have comments only to see that it is some weird spam comment being left again. I took a cute picture of the girls the other day and I actually got them to hug which is rare for them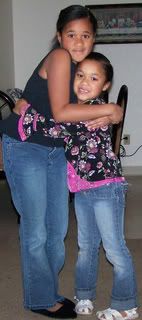 .
I also got a picture of the boys sleeping and tristan holding on to David.